This is the cheapest 70-inch Black Friday TV deal you're going to get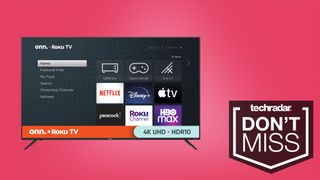 (Image credit: Onn / TechRadar)

The
Black Friday deals
at Walmart are now well underway – and a number of budget screens have got even cheaper to mark the beginning of the discount celebrations.
After a 70-inch screen for truly super-size images? This onn TV with 4K HDR is now just $398 after a whopping 40% discount. That's an incredible saving on such a large television – and we don't expect we'll see anything of comparable size for this price for the remainder of the Black Friday TV deals event. Walmart, we take our hat off to you.
On the smaller (and even cheaper) side, this 40-inch onn. TV is now just $128 after a half-price discount slashed the RRP to measly proportions.
That's right, for the price of an Apple TV 4K or an annual Netflix subscription, you can buy a whole television – though be warned that you'll be sticking with 1080p / HD resolution rather than the 4K detail usually found on 40-inch screens.
If you want something massive from the not-too-shabby Vizio brand, then you can pay a little more and get its 70-inch monster for $498 – but for that, you do also get Dolby Vision compatibility.
Walmart's Black Friday deals went live at 3 pm PT for early access members, and 7 pm PT for everyone else – so make sure to act fast before stock runs out, as most of these units could shift before everyday shoppers get their eyes on them.
Today's best Black Friday TV deals
More Black Friday TV deals
More Black Friday deals in the US
You can see more TV deals with our Best Buy Black Friday deals guide. You can also shop more bargains with our roundup of the best Walmart Black Friday deals and the best Amazon Black Friday deals.
Henry is TechRadar's News & Features Editor, covering the stories of the day with verve, moxie, and aplomb. He's spent the past three years reporting on TVs, projectors and smart speakers as well as gaming and VR – including a stint as the website's Home Cinema Editor – and has been interviewed live on both BBC World News and Channel News Asia, discussing the future of transport and 4K resolution televisions respectively. As a graduate of English Literature and persistent theatre enthusiast, he'll usually be found forcing Shakespeare puns into his technology articles, which he thinks is what the Bard would have wanted. Bylines include Edge, T3, and Little White Lies.